15 x 48 Ultra-Low Profile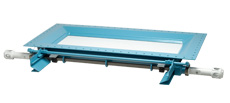 24 x 54 Low-Profile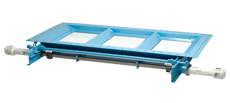 Sand
Responding to the changing needs of the marketplace, Miner continues to innovate to help our customers move new products, re-purpose cars, or improve unloading performance. Rather than acquire cars specifically for sand service, car owners can now hedge their bets. Miner's new 15˝ x 48˝ AutoLOK™ II outlet joins the family of gates that bolt up to standard 13˝ x 42˝ hopper flanges. Its 7.35˝ low profile design handles the requirements of sand service while the opening is tailored to match a cement-unloading boot. Cars with these outlets can easily switch between sand and cement service depending on market needs.
The AutoLOK II is easy to open and close and stays locked. It features Miner's patented lost-motion mechanism system, which allows the door to unlock first without moving the door, reducing the risk of gate damage. AutoLOK's slope sheets and vertical, below-door sides let the load flow freely without buildup or packing in the corners. With tight tolerances and full perimeter seals, the AutoLOK II prevents leakage–making it perfect for dry bulk commodity materials.
The AutoLOK II meets all GEAPS and AAR S-233-92 specifications to improve unloading operations in a wide variety of demanding applications. With over a century of experience, unrivaled commitment to engineering, state-of-the-art manufacturing and proven reliability, Miner's AutoLOK II is the most widely specified outlet gate in the industry.
Check out our other gate sizes (sizes and commodity are representative only).
13 x 42
13 x 42 Low-Profile
15 x 48 Ultra-Low Profile
24 x 54 Ultra-Low Profile
Contact your Miner Sales Manager to determine the best fit for your application.