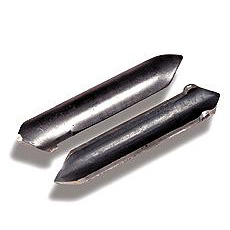 Connectors
Alter the length, or repair damaged freight car brake rods with our connectors.
Advantages

of our connectors include:
Cost effectiveness through salvage of usable materials
Reduce excessive inventory of replacement rods
Fast and easy to apply at a low unit cost
Employs standard welding equipment and techniques
Tapered ends avoid the risk of hang up on a carrier or structural member
Three standard sizes fit practically all rods

3/4 inch size
7/8 inch size
1-1/8 inch size
Each brake rod repair requires 1 set (2 pieces) of connectors. Connectors are sold in boxes of 15 sets.