NEWS
2018
Miner Enterprises Releases Informative Video on Draft Gears
Miner Enterprises, a leading manufacturer of railcar components, has released an informative video demonstrating the role that draft gears play in railcar operation. The new video, titled "How Does a Draft Gear Absorb Railcar Energy?" provides a look at draft gear design, and uses computer animation to demonstrate how draft gears protect the railcar during train movement.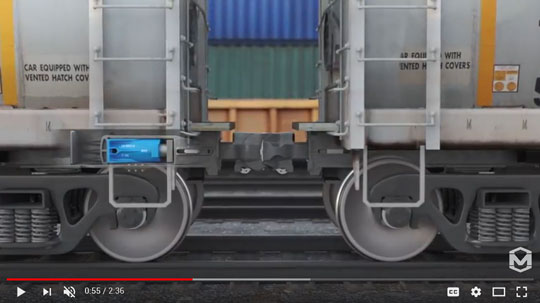 "Draft gears are an essential element of any railcar, but they're not as visible as other components, so their role isn't always as well understood," said Bill O'Donnell, Miner's Executive Director of Global Sales. "We hope this video will help customers visualize what their draft gears are doing, and understand why high-quality gears are so important."
Draft gears are necessary because railcars are subjected to large forces in every phase of operation. As the video explains, "The draft gear's job is to protect the railcar by absorbing the energy associated with pushing, pulling, starting, stopping, and coupling of railcars."
The video uses Miner's TF-880 draft gear to illustrate where gears are located on a railcar and how they manage energy that might otherwise damage railcars and their contents. Easy-to-follow animations demonstrate draft gear movements during "buff" events, when a gear is pushed backward in its housing, as well as "draft" events, when the gear is pulled forward by the movement of other cars.
Miner is a global leader in draft gear design and manufacturing, having produced more than 5 million draft gears in its history. The company's TF-880 draft gear has been the most widely-specified gear in the industry for more than 35 years, and the company estimates that there are more than 1.4 million TF-880 gears in service today.
"How Does a Draft Gear Absorb Railcar Energy?" is available for viewing on the Miner Enterprises YouTube channel, along with other informative videos about Miner products and the railcar industry.
Miner Enterprises Expands Rail Product Line with Acquisition of DFW Grating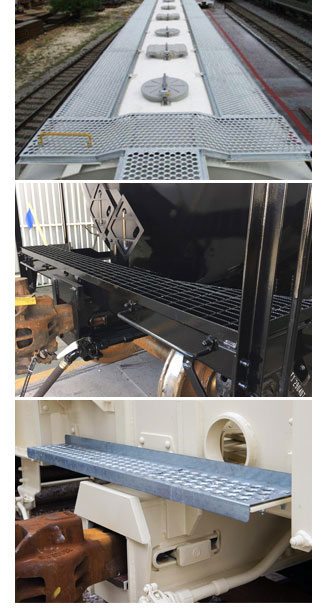 (For immediate release - May 18, 2018)
Miner Enterprises has acquired Texas-based DFW Grating, a leading manufacturer of metal grating products. The acquisition further expands Miner's already broad product line, which includes draft gears, outlet gates, side bearings, brake beams, hatch covers and other railcar components.
"We are thrilled to welcome DFW Gratings into the Miner Enterprises family," said William O'Donnell Executive Director of Global Sales for W. H. Miner. "DFW is a respected name in the rail products industry, with a reputation for delivering maximum value to their customers. Their company culture and values align perfectly with our own, just as their premier line of high-quality grating systems are a perfect fit with our engineered product line."
DFW Grating manufactures bar grating, diamond safety grating, and round hole safety grating at its 120,000-square-foot facility in Dallas. The company's products have a wide range of applications, including railcar running boards, intermodal platforms, end platforms, and brake steps. DFW also offers custom fabrication services, with the ability to meet customer requirements from the initial drawing stage to the production of ready-to-install gratings.
"I've been extremely impressed by DFW Grating's technical capabilities and commitment to customer success," said John Swezey, President and General Manager of Powerbrace Corporation. "As we integrate DFW's operations with our own, I'm confident that we'll be able to deliver even greater value to our new and existing customers."
DFW Grating will be incorporated into Miner's Powerbrace subsidiary, which manufactures outlet gates, brake beams and other components at its own state-of-the-art facility. Like these other Powerbrace rail products, DFW's gratings will be sold and supported under the Miner Enterprises name following the acquisition. Until further notice, orders and communication should be directed to your current contacts at DFW Grating.
Founded in 1894, Miner Enterprises has become a worldwide leader in the railcar industry by developing innovative new products and maintaining high levels of quality and customer service. The company's previous acquisitions include the purchase of Buffalo Brake Beam in 2000 and YSD Industries, Inc.'s plastic pellet gate line in 2006.
2017
Railcar Industry Shows Preference for Miner Double Groove Pneumatic Outlet Gate for Plastics.
Miner Enterprises, Inc. reports that industry adoption of the company's Double Groove pneumatic outlet gate for plastics continues to accelerate as it has been specified on more than 2,400 new railcars in recent months.
Miner's recent orders for the Double Groove include hopper cars for: CAI Rail, CIT Rail, Greenbrier, Wells Fargo Rail and others.
"We are proud to see that industry demand for our pneumatic outlet gate for plastics continues to grow," said Bill O'Donnell, Miner's Executive Director of Global Sales. "I believe these orders are evidence that the Double Groove has become the pneumatic outlet gate of choice for plastics customers in North America."
Customers prefer the Double Groove pneumatic outlet gate for plastics due to its innovative design, which protects hopper car contents from the elements while preventing product leakage during storage or transit. The gate's obstruction-free valve and single-handle operation eliminate confusion during operation, making it easy to sample or unload product.
A leading provider of railcar components for more than 100 years, Miner Enterprises, Inc. designs and manufactures a wide range of high-performance products in addition to outlet gates, including hatch covers, constant contact side bearings, draft gears, brake beams and unloading mechanisms for aggregates or other bulk commodities.
2016
John Swezey Named Powerbrace President
Powerbrace Corporation, a subsidiary of Miner Enterprises, announced that General Manager John Swezey has been promoted to company president, effective immediately. Having led Powerbrace as General Manager since 2011, John brings deep familiarity with the company, as well as decades of railcar industry experience, to his new role.
"Under John's leadership, Powerbrace has expanded its customer base and added new capabilities at their RPD gate and brake beam manufacturing facility, all while maintaining its stellar reputation for quality and innovation," said Ric Biehl, President and General Manager of Miner Enterprises. "This promotion ensures that the company will benefit further from John's strategic vision and industry insight."
"Miner's Powerbrace subsidiary is a premier brand name in the railcar component industry, and I am thrilled to take on this new role," said John Swezey. "I look forward to building on the success we have already achieved, and to working closely with Ric and his staff at W.H. Miner to develop strategic initiatives for all of the organization's products."
Prior to his promotion to President, John Swezey served as General Manager of Powerbrace, with responsibility for the company's operations in Kenosha, Wisconsin, as well as its manufacturing facility in Saltillo, Mexico. A graduate of the College of Engineering and Engineering Technology at Northern Illinois University, John began his career as an engineer with Chamberlain GARD, later holding executive positions with railcar leasing companies GATX and CIT Rail.
An industry leader for more than 120 years, Miner Enterprises designs and manufactures a wide range of railcar components, including side bearings, outlet gates, draft gears, and brake beams. The company's Powerbrace subsidiary recently implemented an advanced powder coating line in its Mexico facility, in addition to earning Certified Welding Fabricator accreditation and ISO 9001:2008 certification.
Miner Earns Second Consecutive "Premier Supplier Award" from Trinity Rail
Miner Enterprises, Inc. announced that it has received its second consecutive Premier Supplier Award from Trinity Rail. Trinity, one of the industry's largest rail car manufacturers, presented the award during the company's annual supplier luncheon in May.
"We are tremendously proud to have earned recognition as a Premier Supplier for the second year in a row," said Ric Biehl, President and General Manager of Miner Enterprises. "We work hard to help our customers succeed, and it is always gratifying to see that our efforts have made a difference."
The Premier Supplier Award was one of 13 awards presented by Trinity president Steve Menzies during the event, held at the company's Dallas headquarters. Trinity selected Miner for special recognition among its standard component suppliers based on an evaluation of Miner's product quality, pricing, and reliable on-time delivery.
"This award demonstrates the strength of the relationship between Miner and Trinity Rail," said Miner Regional Sales Manager Bob Novinsky. "We hope to earn this distinction again in years to come as we continue to provide our industry-leading products and customer service."
A top provider of rail car components for more than 120 years, Miner is a major supplier of  brake beams, draft gears, side bearings, outlet gates, and trough  hatch covers  used in Trinity's Railcar manufacturing and repair facilities.
Miner Adds State-of-the-Art Powder Coating Line to RPD Facility
Miner Enterprises Inc. has announced a significant expansion of its production capabilities with the completion of an automated powder coating system at its Rail Products Division plant in Mexico. The system will be used to apply protective coatings to outlet gates produced at the facility.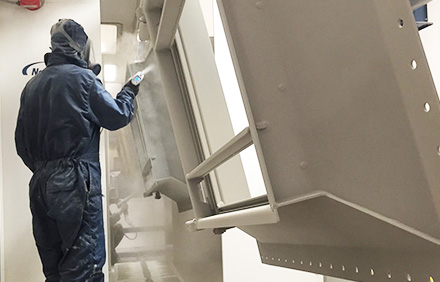 Powder coatings, an increasingly popular alternative to traditional wet paint coatings, are valued for their high durability and visual appeal. Coatings are applied by electrostatic sprayers, then cured in ovens to ensure years of reliable performance. "We are very pleased with our new RPD powder coating line," said Ric Biehl, President and General Manager of Miner Enterprises. "Our investment in this system demonstrates Miner's commitment to meeting our customers' evolving needs."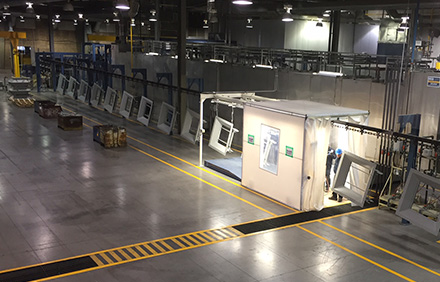 Miner's new coating operation has the capacity to meet anticipated customer demand now and in future years. The line is highly automated and moves railcar components through a pretreatment phase, powder application, and oven curing before a final detailed inspection process. The system was designed to use reclaimed waste water and to recapture unused coating materials, making it cost-efficient and environmentally friendly.
"The majority of our customers now request powder coatings, so the time was right to add this to our core operations," said John Swezey, General Manager of Powerbrace, a Miner Subsidiary. "As opposed to relying on external shops, installing our own coating system gives us greater long-term control over quality and capacity."
The powder coating system was designed and installed by the industry's leading supplier of coating equipment. This installation represents the latest advancement in Miner's RPD facility, which recently earned the prestigious Certified Welding Fabricator accreditation for its welding operations.
Updated Miner Field Guide and Wall Chart Now Available
Miner Enterprises, Inc. announced today the latest release of their inspection and installation field guide and wall chart are available.
"Miner's field guide takes the guesswork out of buying, inspecting, adjusting and installing railcar components. We designed it to be easy to use and useful to our customers."- explained Bill O'Donnell, Miner's Executive Director of Global Sales.
This most up-to-date version organizes the constant contact side bearing information into common-sense areas to help find the needed information quickly. The side bearing identification section includes model pictures with part numbers for easy identification and ordering. The general information section introduces the customer to need-to-know facts on Miner side bearings. There is also separate inspection and installation sections with a keen focus on achieving the correct setup height. As always, Miner has easy to use online calculators for all the Sum of Pairs scenarios.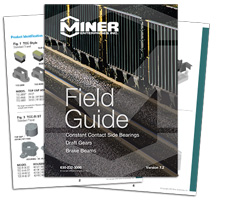 Distributed in English, Version 7.2 contains information related to the inspection and installation of Miner's TecsPak® constant contact side bearings, draft gears and brake beams. A static pdf version of the field guide is available online, formatted to print on localized desktop printers.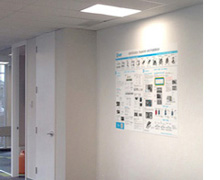 Wall Chart Now Available
Miner also has a companion wall chart available. Made of durable vinyl for mounting in a shop environment, the chart is organized into common sense areas to help find the needed information quickly. Please contact your sales rep to get your wall chart.
Miner Double Groove III Pneumatic Gate for Plastics Selected for 440 New Railcars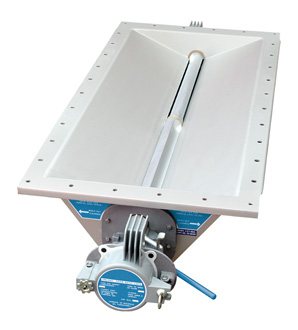 Miner Enterprises, Inc. announced today that CAI Rail Inc. has selected Miner's Double Groove III pneumatic gates for 440 plastic pellet railcars to be built by National Steel Car. One of the most frequently specified pellet gates in the industry, the Double Groove III has a reputation for exceptional durability, product security, and ease of operation.
"We're thrilled to be a part of this very significant build," said Bill O'Donnell, Miner's Executive Director of Global Sales. "I am certain that our reliable, easy-to-use pellet gates will reward the confidence the customer has shown in Miner and in our products."
Pneumatic gates are a critical component in plastic pellet railcars, providing an outlet through which product can be sampled or unloaded. Miner's innovative Double Groove III gate features a single-piece, obstruction-free valve that allows for optimal product flow and easy cleaning. The Double Groove III also provides a watertight seal, preventing product leakage and protecting the car's contents from flood waters, rainwater, and humidity.
A leading manufacturer of railcar components, Miner expects to see continued high demand for the Double Groove III and its other plastic pellet railcar components, as the plastics manufacturing industry experiences growth driven by low natural gas costs and expanding international markets.
In addition to its Double Groove III plastic pellet gates, Miner was also selected to provide draft gears, brake beams, and constant contact side bearings for the 440 railcars in the build. The cars are currently being manufactured at National Steel Car's Canadian facility.
2015
Miner RPD Earns American Welding Society Accreditation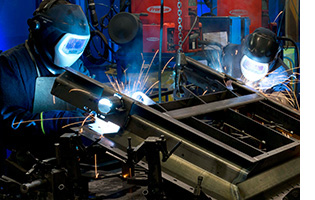 Miner Enterprises Inc. announced today that it has earned the Certified Welding Fabricator (CWF) accreditation for its Rail Products Division facility in Mexico. The American Welding Society awards the CWF accreditation to companies that meet high standards of training, equipment, and quality management in their welding operations.
"To the best of our knowledge Miner is the first railroad industry supplier to earn this prestigious certification in Latin America," said Ric Biehl, President and General Manager of Miner Enterprises. "The CWF accreditation reflects a tremendous commitment to quality on the part of the entire Rail Products Division team."
Miner's Rail Products Division designs and manufactures outlet gates, brake beams, and other railcar components for customers in more than 50 countries. The company's facility in Saltillo, Coahuila, Mexico, uses industry best practices and state-of-the-art technology to produce components that deliver years of high performance even under demanding service conditions.
To earn the Certified Welding Fabricator accreditation, Miner's Rail Products Division demonstrated that its personnel, equipment, and quality management procedures met or exceeded the American Welding Society's exacting specifications. "Throughout the certification process, our team showed the same professionalism and attention to detail that we bring to our work every day," said John Swezey, General Manager of Powerbrace, a Miner Subsidiary.
The CWF certification process required the completion of an application and quality manual, as well as an onsite audit of the Saltillo facility, where Miner currently operates multiple gas metal arc welding production lines. The facility has met numerous other quality and safety standards, including ANSI Z49.1 and ISO 9001:2008.
Miner Enterprises Earns Prestigious "Premier Supplier Award" from Trinity Rail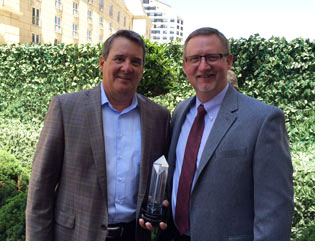 Geneva, IL – Miner Enterprises, Inc., an Illinois-based supplier of railcar components, announced that it has earned a Premier Supplier Award from Trinity Rail, one of the largest railcar manufacturers in North America. Miner received the award based on its track record of providing high quality products, on time delivery, and superior customer service.
"I cannot describe the pride I felt when Trinity president Steve Menzies called our name to receive this award," said Ric Biehl, President and General Manager of Miner Enterprises. "This is truly a testament to the commitment we have shown in building our relationship with Trinity."
Trinity Rail presented the Premier Supplier Award at the company's annual supplier luncheon in Dallas. Miner was one of a small group of suppliers chosen for the award out of more than 20 of Trinity's key business partners, including steel suppliers, component manufacturers, and paint suppliers.
Miner President Ric Biehl gave a special mention to Regional Sales Manager Bob Novinsky for providing the right solutions for Trinity's needs. "Thanks to the excellence that Bob and the rest of our team display every day," he said, "We have distinguished ourselves among our competitors and can look forward to many more years of continued success."
Miner Enterprises Introduces New High Performance Side Bearing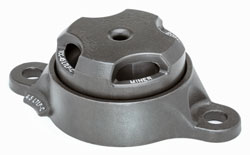 Geneva, IL – Continuing the company's long history of innovation, Miner Enterprises has introduced its newest railcar component, a long travel constant contact side bearing with a wide range of applications. The bolt-on bearing, designated TCC-45 LTLP-C, features a low profile and simple design, allowing for easy installation and maintenance.
"We take pride in developing products that improve railcar performance and reduce our customers' operating costs," said Bill O'Donnell, Miner's Executive Director of Global Sales. "The LTLP-C represents the latest technology in side bearings that deliver superior stability combined with excellent performance on curves."
Ideally suited for use on tank cars, the LTLP-C side bearing can also be used to reduce wheel and truck wear on a variety of other rail cars. The three-piece bearing provides 4,500 pounds of preload and 5/8 inch of travel above its low-profile 2 inch housing. At the bearing's core is Miner's heavy-duty TecsPak®, an advanced pad that helps control truck hunting, or instability, under a wide range of operating conditions and speeds. Like all of Miner's side bearings, the LTLP-C features tight tolerances that extend the bearing's service life and help reduce maintenance costs.
A leader in rail car component design and manufacturing for more than 120 years, Miner Enterprises developed the industry's first long travel constant contact side bearings in 1991. Long travel bearings help improve rail car stability at high speeds and reduce wear on wheels and trucks, and can also help lower the risk of derailments due to car body roll. These improvements in safety and stability led the Association of American Railroads to mandate the use of long travel constant contact side bearings on all tank cars in 2005.
Andrew Kries Promoted to Director of Engineering at Miner Enterprises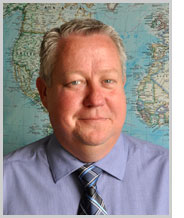 Geneva, IL – Miner Enterprises, a leading manufacturer of rail car components, has announced the promotion of Andrew Kries to Director of Engineering. A long-time Miner Engineering Department employee and one of Miner's key business leaders, Andrew moves into his new role from his previous position as Miner's Manager of Mechanical Testing.
"In his years with Miner Andrew has demonstrated a unique combination of technical expertise as well as outstanding business perspective," said Ric Biehl, President and General Manager of Miner Enterprises. "I am certain that his leadership in this role will further enhance Miner's reputation for quality design and industry innovation."
In his 24 years with Miner, Andrew Kries has been instrumental in developing a variety of new products, including patented innovations in railcar discharge gates and side bearings. As Director of Engineering, he will lead the company's continuing efforts to meet customer's current and future needs through advanced technology and superior performance.
Andrew steps into his new role following the departure of Bob Pokorski, who is taking on a new position with Trinity Rail. "We are grateful to Bob for his tremendous contributions over the last seven years, and we wish him continued success as he joins one of our most important customers," said Miner President and G.M. Ric Biehl.
A graduate of the Valparaiso University College of Engineering, Andrew Kries first joined Miner Enterprises in 1991. He is also a Member of the American Society of Mechanical Engineers.
2014
Miner Enterprises Celebrates 120 Years in Business

Geneva, IL. Aug, 2014 – Miner Enterprises received its first customer order on June 7, 1894, to supply the rapidly growing railroad industry with high quality engineered railcar components. "The industry has changed dramatically in 120 years," said Ric Biehl, Miner's president and general manager. "However, our commitment to innovative design, customer needs, high quality service and building trust remain the hallmark of the Miner brand ."
"Originally founded in 1894 as W.H.Miner, our company provided spring draft rigging and then friction gears for railroads transitioning from wooden frames," explained Bill O'Donnell, Miner's executive director of global sales, "It continued to grow rapidly with the standardization of draft gear pockets, automatic couplers and braking systems."
Today, Miner Enterprises products include draft gears, unloading systems, hatch covers, side bearings, brake beams, buffer springs and drawgear springs. Customers include all Class I and Class II railroads worldwide, freight car builders, shippers, leasing companies, and contract freight car repair shops. Miner products are purchased in 56 countries and the Miner name is well known around the world.
"We are exceptionally gratified by the trust our customers place in our company," continued O'Donnell. "We work hard to continue to deserve that trust. Miner's experienced staff of engineers and technicians works closely with sales and marketing to provide superior products and services that always meet or exceed our customers' needs and the changing needs of the marketplace."
Class I railroad selects Miner AggreGate® Gates, Side Bearings, and Brake Beams
for 54 New Ballast Cars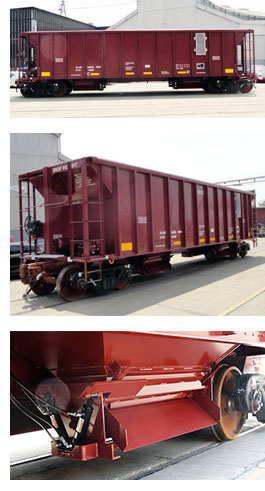 Geneva, IL. May 2014 – Miner Enterprises Inc. announced today that a Class I railroad has selected Miner's 5 foot manual AggreGate® outlets for 54 new ballast cars currently being built byFreightCar America, Inc. The Miner AggreGate ballast gates distribute ballast on either side of the rails and will be used in conjunction with a solar-powered system that can be operated via radio control. In addition to ballast gates, Miner provided the constant contact side bearings and brake beams for the cars.
"We are committed to helping our customers reduce costs by providing high-quality and technologically advanced railcar components." said Bill O'Donnell, Executive Director of Global Sales for Miner.
With over 100 years experience, Miner Enterprises is a leader in unloading devices. Miner's fabricated and completely assembled AggreGates are easy to install and easy to operate. With many unique design features, the AggreGate can effectively ballast inside, outside or both sides of the rail simultaneously. These features include large guillotine door openings designed to stop ballast flow with minimum effort, easy to operate toggle-type linkage systems and tapered doors for easy ballast shutoff at switches, crossovers and bridges.
Miner developed the TecsPak® Constant Contact (TCC) side bearings to help decrease railcar life cycle costs. The excellent truck hunting control and improved curving performance, make it possible for railcars to operate at high speeds with reduced truck and wheel wear -- even under the toughest conditions.
Miner's Series 2008 brake beams are designed to minimize uneven brake shoe wear, reducing replacement by as much as 20 percent. Miner increased the brake beam's strength 35 percent to withstand the effects of car and truck impacts. The notched brake heads reduce beam binding for more consistent braking.
NEWS ARCHIVES »