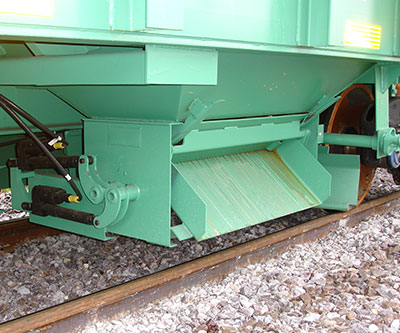 Ballast / MOW Outlets
Miner is the largest and most experienced manufacturer of discharge systems in the world with over 25,000 ballast discharge systems in service known for reliable operation, rugged long-lasting endurance, reduced maintenance and dependability.
Effectively ballast inside, outside or both sides of the rail simultaneously
Large guillotine door openings designed to stop ballast flow with minimum effort
Easy ballast shutoff at switches, crossovers and bridges
Remote control AggreGate allows the user to deposit ballast while remaining a safe distance from the activity.
Easy to apply to new or existing hopper cars
AggreGate ballast discharge outlets are available in either manual, air-operated, electric and remote control models to meet virtually any ballast unloading need.
Simple. Reliable. Proven.
The manually-operated AggreGate has a three-pocket, three-position handle for easy opening and closing of doors
Solar powered and battery operated provides stand-alone operation