Maintenance free, never needs adjustment
Unmatched durability provides long life
High energy absorption in a lightweight spring package
Wide operating temperature range (–40° C to + 50° C)
Available with ultraviolet protection
Designed to comply with EN Specification EN-15551
and EN-15566
Can be premounted
Drawgear Springs
Miner TecsPak (Thermoplastic Elastomer Compression Spring PAcKage) drawgear springs require no maintenance or adjustments after installation. They resist exposure to dirt and chemicals including lubricants, diesel fuel, gasoline, hydraulic fluids and most solvents that would seriously damage or destroy rubber or urethane, even through temperature fluctuations ranging from –40° C to + 50° C.
Designed to comply with EN-15551 and EN-15566, TecsPak drawgear springs have been rail-tested throughout Europe on freight wagon and passenger coach applications for nearly 30 years. They provide an excellent balance of a high degree of protection for freight wagons while permitting smooth operation for curving. The unsurpassed durability and dependable quality will reduce maintenance costs for an extended life of your equipment.
If you don't see a drawgear spring package that fits your needs, please contact us and let us know your specific parameters.
ST-9-2
20 kJ Capacity
1st Closure

3rd
Closure

Preforce
51 kN
46 kN
Capacity (We)
24.0 kJ
21 kJ
Absorption (Wa/We)
.51
.43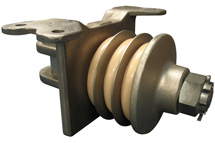 Static Performance Curve
(72 Hours After Installation)
| | |
| --- | --- |
| - 3 Pads, 2 Plates | |
| - Installed Height: | 160mm |
| - Test Speed: | 42mm/sec |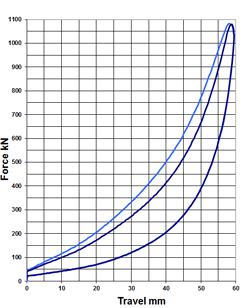 TS-2
20 kJ Capacity
1st Closure

3rd
Closure

Preforce
24.2 kN
21.0 kN
Capacity (We)
23.7 kJ
21.0 kJ
Absorption (Wa/We)
.60
.54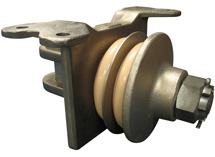 Static Performance Curve
(72 Hours After Installation)
| | |
| --- | --- |
| - 2 Pads, 1 Plates | |
| - Installed Height: | 120mm |
| - Test Speed: | 41mm/sec |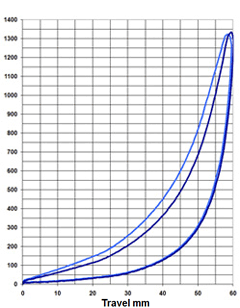 LFTS
Low-Floor Applications
Max Diameter=140mm
1st Closure

3rd
Closure

Preforce
26 kN
12 kN
Capacity (We)
12.4 kJ
9.6 kJ
Absorption (Wa/We)
.58
.49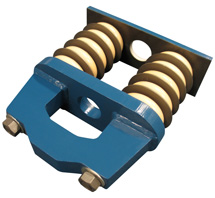 Static Performance Curve
(72 Hours After Installation)
| | |
| --- | --- |
| - Installed Height: | 177.5mm |
| - Test Speed: | 25mm/min |