Miner's Solar Powered, Stand-Alone AggreGate® with LED work lights being deployed on 375 new railcars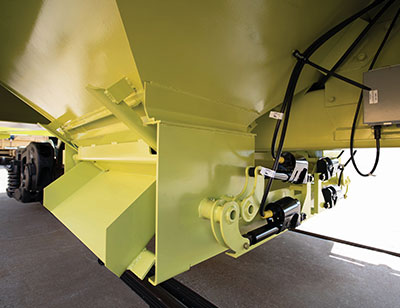 (Geneva, IL U.S.A.) Miner Enterprises, Inc. is proud to announce that the first new cars in a 375-car order are currently rolling out of the FreightCar America (FCA) facility in Alabama. Each car is being outfitted with four of Miner's new Solar Powered Stand-Alone AggreGate® ballast discharge gates, featuring a new LED lighting system.
Each new MOW railcar will feature the innovative solar powered, battery-operated lighting systems. The LED flat-panel arrays are affixed to the railcar's undercarriage to enable safer, more efficient night-time ballast operations. The first cars outfitted with the new solar-powered system began rolling off the line in mid-August. Delivery of the remainder of the cars ordered is expected to be completed by the end of 2020.
"We're excited to see new ballast car fleets rolling into duty that will take MOW operations to higher levels of efficiency and agility," said Bill O'Donnell, executive director of global sales for Miner. "The stand-alone Miner LED lighting system is also available with standard electric, air-powered and manual AggreGates, and as a retrofit option for existing cars in the fleet."
The Solar Powered Stand-Alone AggreGate®  from Miner enables independent operation of the car from anywhere within the ballast train. This eliminates the need for grouping manual and automatic cars, since each gate and car can ultimately be operated without connection to another car for power. The solar powered system is battery operated for stand-alone operation. An optional remote control with push button override is also available, designed to allow for individual car and gate selection.
Among the most trusted and frequently specified ballast outlet solutions in the industry, Miner AggreGate® systems can effectively ballast inside, outside or both sides of the rail simultaneously. Large guillotine door openings are designed to stop ballast flow with minimum effort, making it easy to shutoff ballast at switches, crossovers and bridges. Both single and double-door control options are available.
With more than 125 years of experience in railcar equipment design and manufacturing, Miner Enterprises is one of the industry's top suppliers of draft gears, brake beams, outlet gates and unloading systems, constant contact side bearings, and other high-performance components. The company's products are currently used across North America and on railroads worldwide.