Miner Enterprises Introduces New High Performance Side Bearing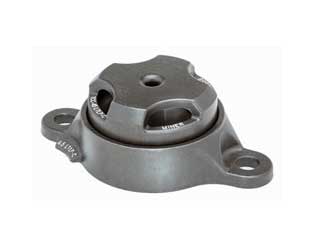 Geneva, IL – Continuing the company's long history of innovation, Miner Enterprises has introduced its newest railcar component, a long travel constant contact side bearing with a wide range of applications. The bolt-on bearing, designated TCC-45 LTLP-C, features a low profile and simple design, allowing for easy installation and maintenance.
"We take pride in developing products that improve railcar performance and reduce our customers' operating costs," said Bill O'Donnell, Miner's Executive Director of Global Sales. "The LTLP-C represents the latest technology in side bearings that deliver superior stability combined with excellent performance on curves."
Ideally suited for use on tank cars, the LTLP-C side bearing can also be used to reduce wheel and truck wear on a variety of other rail cars. The three-piece bearing provides 4,500 pounds of preload and 5/8 inch of travel above its low-profile 2 inch housing. At the bearing's core is Miner's heavy-duty TecsPak®, an advanced pad that helps control truck hunting, or instability, under a wide range of operating conditions and speeds. Like all of Miner's side bearings, the LTLP-C features tight tolerances that extend the bearing's service life and help reduce maintenance costs.
A leader in rail car component design and manufacturing for more than 120 years, Miner Enterprises developed the industry's first long travel constant contact side bearings in 1991. Long travel bearings help improve rail car stability at high speeds and reduce wear on wheels and trucks, and can also help lower the risk of derailments due to car body roll. These improvements in safety and stability led the Association of American Railroads to mandate the use of long travel constant contact side bearings on all tank cars in 2005.
Share this post