Miner Enterprises Earns Prestigious "Premier Supplier Award" from Trinity Rail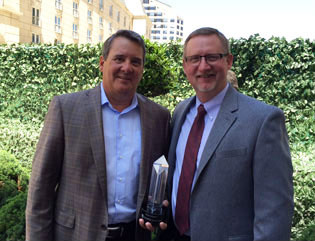 Geneva, IL – Miner Enterprises, Inc., an Illinois-based supplier of railcar components, announced that it has earned a Premier Supplier Award from Trinity Rail, one of the largest railcar manufacturers in North America. Miner received the award based on its track record of providing high quality products, on time delivery, and superior customer service.
"I cannot describe the pride I felt when Trinity president Steve Menzies called our name to receive this award," said Ric Biehl, President and General Manager of Miner Enterprises. "This is truly a testament to the commitment we have shown in building our relationship with Trinity."
Trinity Rail presented the Premier Supplier Award at the company's annual supplier luncheon in Dallas. Miner was one of a small group of suppliers chosen for the award out of more than 20 of Trinity's key business partners, including steel suppliers, component manufacturers, and paint suppliers.
Miner President Ric Biehl gave a special mention to Regional Sales Manager Bob Novinsky for providing the right solutions for Trinity's needs. "Thanks to the excellence that Bob and the rest of our team display every day," he said, "We have distinguished ourselves among our competitors and can look forward to many more years of continued success."
Share this post