Andrew Kries Promoted to Director of Engineering at Miner Enterprises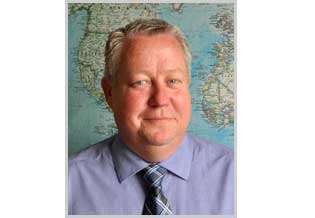 Geneva, IL – Miner Enterprises, a leading manufacturer of rail car components, has announced the promotion of Andrew Kries to Director of Engineering. A long-time Miner Engineering Department employee and one of Miner's key business leaders, Andrew moves into his new role from his previous position as Miner's Manager of Mechanical Testing.
"In his years with Miner Andrew has demonstrated a unique combination of technical expertise as well as outstanding business perspective," said Ric Biehl, President and General Manager of Miner Enterprises. "I am certain that his leadership in this role will further enhance Miner's reputation for quality design and industry innovation."
In his 24 years with Miner, Andrew Kries has been instrumental in developing a variety of new products, including patented innovations in railcar discharge gates and side bearings. As Director of Engineering, he will lead the company's continuing efforts to meet customer's current and future needs through advanced technology and superior performance.
Andrew steps into his new role following the departure of Bob Pokorski, who is taking on a new position with Trinity Rail. "We are grateful to Bob for his tremendous contributions over the last seven years, and we wish him continued success as he joins one of our most important customers," said Miner President and G.M. Ric Biehl.
A graduate of the Valparaiso University College of Engineering, Andrew Kries first joined Miner Enterprises in 1991. He is also a Member of the American Society of Mechanical Engineers.
Share this post