Class I railroad selects Miner AggreGate® Gates, Side Bearings, and Brake Beams for 54 New Ballast Cars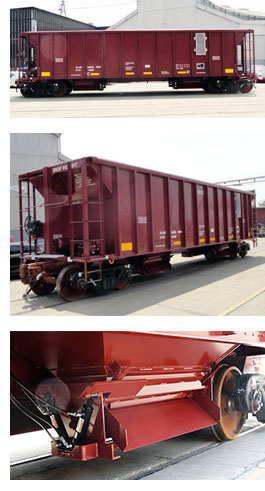 Geneva, IL. May 2014 – Miner Enterprises Inc. announced today that a Class I railroad has selected Miner's 5 foot manual AggreGate® outlets for 54 new ballast cars currently being built byFreightCar America, Inc. The Miner AggreGate ballast gates distribute ballast on either side of the rails and will be used in conjunction with a solar-powered system that can be operated via radio control. In addition to ballast gates, Miner provided the constant contact side bearings and brake beams for the cars.
"We are committed to helping our customers reduce costs by providing high-quality and technologically advanced railcar components." said Bill O'Donnell, Executive Director of Global Sales for Miner.
With over 100 years experience, Miner Enterprises is a leader in unloading devices. Miner's fabricated and completely assembled AggreGates are easy to install and easy to operate. With many unique design features, the AggreGate can effectively ballast inside, outside or both sides of the rail simultaneously. These features include large guillotine door openings designed to stop ballast flow with minimum effort, easy to operate toggle-type linkage systems and tapered doors for easy ballast shutoff at switches, crossovers and bridges.
Miner developed the TecsPak® Constant Contact (TCC) side bearings to help decrease railcar life cycle costs. The excellent truck hunting control and improved curving performance, make it possible for railcars to operate at high speeds with reduced truck and wheel wear -- even under the toughest conditions.
Miner's Series 2008 brake beams are designed to minimize uneven brake shoe wear, reducing replacement by as much as 20 percent. Miner increased the brake beam's strength 35 percent to withstand the effects of car and truck impacts. The notched brake heads reduce beam binding for more consistent braking.
Share this post