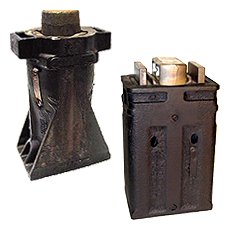 Reconditioned Draft Gears
Miner Enterprises Reconditioned Draft Gears are fully disassembled, weld repairs are made to the housing as needed, parts are cleaned and inspected, new parts are added as needed, and the gear is reassembled and hammer tested prior to shipment and installation in one of your cars.
Miner reconditions its own Group J and Group K gears, as well as the Cardwell Mark 50 and Mark R500. All are rebuilt to AAR specification M-901B standards. Miner is an AAR approved reconditioning facility, certified under AAR M-1003.

Reconditioned Draft Gear Guidelines

Stuck Draft Gear Procedure Manual