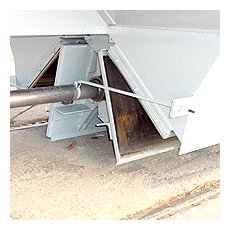 VersaFlow™ in Action!
Dry Bulk Commodities
VersaFlow™
The fully automated VersaFlow™ Rapid Discharge system for covered hoppers is designed to keep up with the industry's demand for unloading bulk commodities such as soda ash, metallic silica, gypsum pellets, etc., quickly and reliably into pits. This VersaFlow™ system enables a 100-ton car to be emptied in less than 40 seconds at speeds up to three mph.
The VersaFlow installs easily on center sill cars and fits most standard or custom designs for covered hoppers.
The VersaFlow is an engineered-to-order mechanism designed for modular application and provides the following options:
Simultaneous or individual hopper unloading
Car mounted, remote or pick-up shoe operation