PRODUCTS
Reliability. Durability. Low maintenance.
These are key benefits you receive by investing in Miner's high quality railcar components. Backed by exhaustive engineering, research and development, quality testing, comprehensive service analysis and over 115 years of actual rail experience, Miner products are components you can count on.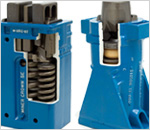 Miner's variety of steel-friction and elastomer-friction draft gears provide higher capacity and allow greater payloads for all service requirements. Certified under various AAR M-901 specifications and AAR quality specification M-1003, Miner draft gears provide superior cushioning and increased protection of your railcars.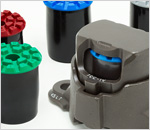 Constant Contact Side Bearings, featuring Miner's patented TecsPak® elastomer pads, are designed to reduce truck hunting, increase car stability and lower component wear on various types of cars. TCC-IV side bearings, specifically engineered for long-travel applications, are available in various preloads and maintain operation preload under all service conditions. Miner also offers a variety of retrofit kits to upgrade your existing block and double roller side bearings to long travel.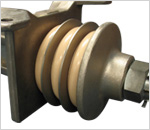 TecsPak® is Miner's patented elastomer spring material that is used in draft gears, constant contact side bearings, and European UIC buffer and drawgear spring applications. TecsPak® absorbs more energy per weight or volume than comparable rubber, urethane, or steel springs. It is extremely durable, resistant to dirt, lubricants, fluids, and most solvents and is maintenance free while in service.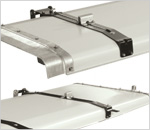 DuraShield™ trough hatch covers, available in both round and square end-cover configurations to accommodate most 24" trough designs are available in all standard lengths. The DuraShield is a lightweight profile cover system that is more durable than fiberglass and lighter weight than all-aluminum hatch covers, providing a more consistent seal in all weather conditions.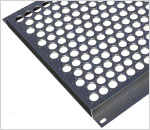 Miner's newest product offering comes from North America's leading manufacturer and fabricator of bar grating, diamond safety grating, and round hole safety grating products for rail applications. From repair shop orders to OEM projects, Miner grating systems has an extensive drawing library to meet your needs when better traction is your main concern.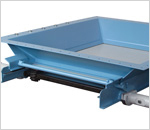 We are the largest and most experienced gate manufacturer in the world. All our outlet gates feature the AutoLOK II patented lost-motion system providing easy, trouble-free opening for grain, cement, sand, DDGS, sugar, food commodity, potash, and plastic pellets. Meets all GEAPS and AAR S-233-92 specifications.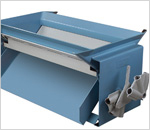 AggreGate® ballast discharge outlets are available in either manual, air-operated, electric and remote control models to meet virtually any ballast unloading need. You can ballast inside, outside or both sides of the rail simultaneously. Engineered as a fabricated and completely assembled unit, and available in both weld-on and bolt-on models, AggreGates are extremely easy to apply to new or existing hopper cars.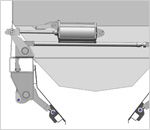 Our heavy-duty rapid discharge systems offer reliable, trouble-free discharging of coal, iron ore, ballast, and dry bulk commodities. Available in a variety of operating systems, our rapid discharge systems are the only ones to offer adjustable connecting links ensuring the doors stay closed as the railcar sags over time.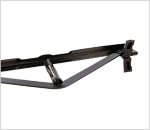 Miner offers a complete line of Brake Beam components. They include Miner Series 2008 brake beams – they last 10x longer than non-bushed beams for prolonged service life and better braking performance, and brake beam wear plates and connectors - ruggedly designed for enhanced railcar value and long-life performance.